Jessica Olson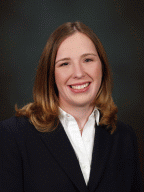 Jessica L. Olson has a B.S. in Biomedical Engineering from the Milwaukee School of Engineering and a J.D. from the University of Denver College of Law. Her technical background includes both mechanical and electrical engineering as well as specific applications in the life sciences. She has written and prosecuted patent applications in fields as diverse as medical devices, sporting goods, business methods, computer software, and Internet-related inventions. She also has experience with trademark prosecution and litigation.
She is admitted to practice before the United States Patent and Trademark Office, and before the United States District Court for the District of Colorado, and is admitted to the bar of the State of Colorado.
Jessica has experience as an engineer in the medical device industry. Her focus was on regulatory affairs and quality assurance for medical imaging equipment which included:
full field digital mammography,
digital angiography,
mobile x-ray technologies, and
magnetic resonance imaging.